Video of Young Social Media Star Ed Shows Off - Naked and Hung!


Ed is a really popular model, he's got a huge following on social media and he looks great, fit, toned and cute! He's confident and cheeky and loves to show off, and no wonder - he strips off completely naked for this shoot, and the lad has an amazing piece of equipment - he's thick and long and shows it off and plays with it until it makes a huge mess!

This trailer is a tease of the full version you can see on our sister website

FitYoungMen.com



Tags: fityoungmen, ed
---
Aldo Chats to us About his Photo Shoot Where he gets naked and is pleased to See Us!


Aldo is a confident scouser who has for years entertained his friends by fooling around getting naked and doing daft naked things! His mates all know how he looks naked! So come have a look yourself, Aldo has a typical footballer body, great legs, nicely defined abs and the confidence that tends to come when you have a bigger than average uncut cock! This three minute trailer is a tease of the 12 minute version you can see on our sister website

FitYoungMen.com



Tags: fityoungmen, aldo
---
Ripped and Stripped 2017 - Naked Dorset Weekender
Eight of our hottest lads got down and dirty in Dorset for the weekend of a lifetime while making our super sexy 2017 calendar, with only one rule: they had to spend the entire duration of the trip naked.
Jam packed full of full frontal nudity.
The hunks leave nothing to the imagination during their stay in the grand house - as they enjoyed a series of entertaining activities that will leave jaws on the ground. Firstly, they all limbered up for a group stretching session, meaning we got to see them in some extremely compromising positions, before applying suncream to each other in preparation for a day in the sun, where they played sports such as trampolining, swimming and tennis – allowing them to reallyshow off their ball skills.
Other activities included body painting - where they all got up, close and personal with each other's sticky body parts – and even giant Jenga – as well as a trip to a nearby beach, where they can all be seen playing with each other in the sea in scenes that are shore to put a smile on your face. You'll also be given the chance to get to know the lads a bit better in the video, as they all hang out (quite literally) in the manor house in the evening for a chill out session, and have some light-hearted banter and play a bit of music - baring themselves in more ways than one. This access-all-areas video also shows the hunks play fighting, bonding AND hitting the showers, as we follow every moment of their titillating trip.
See our gorgeous models from every angle - with nothing censored - in two fun-filled videos each 55 minutes long so an outstanding 110 minutes of naked hunks, classified by the BBFC as certificate 18, and part 1 is available to pre-order now. The printed calendar has scratch off technology to reveal everything! You'll also be able to see every inch of flesh in as much dirty detail as possible, as the footage was filmed in 4K – which offers eight times more clarity than HD, from both drone and multiple videos on the ground. The 2017 calendar - Naked Dorset Weekend - will be dispatched during early December 2016.
Find out more at
Ripped & Stripped
Ripped and Stripped 2017 Full Trailer - Making of the Calendar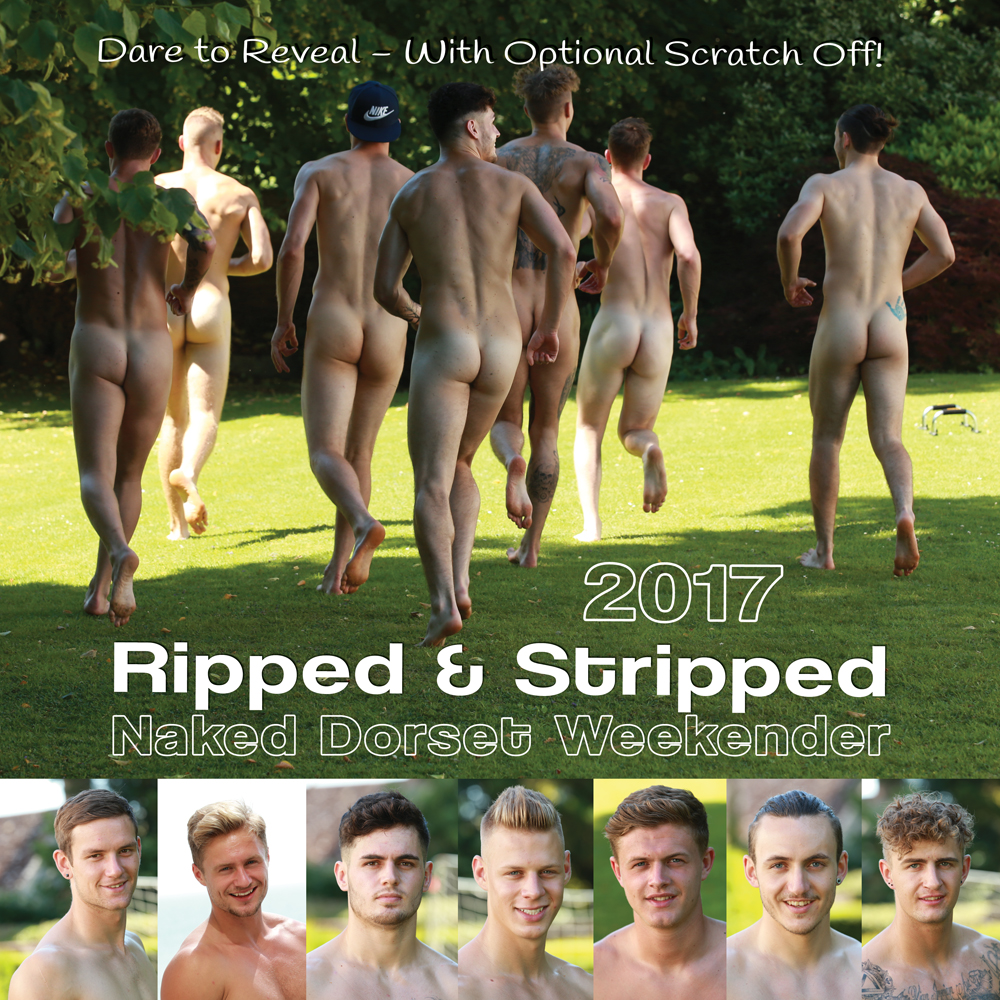 ---
Ripped Young Martial Arts Expert Danny McCaw Plays his Guitar & Takes a Bath!


Danny is a young man who has worked really hard to get his body like it is, during his teens he took up Mixed Martial Arts and did that for six years, today he plays a lot of football and goes to the gym and what a great physique for someone that is 6'2 tall and at 82 kilos everything on his body is solid, his abs are great and an uncut talent you won't be able to take your eyes off.

Danny is naturally flirtatious and you can chat away with him and the hours fly by. I discovered he loves Australian women with beach fit bodies and is quite picky who he dates, but talking to him it sounds like he gets a shag every night and plays with his uncut talent every morning! A very horny and sexual lad, who when not playing sports or shagging is playing with his guitar as this budding young musician seems to have another talent!



Tags: fityoungmen, muscles, abs, danny mccaw, guitar
---
Connor Hunter from MTV's Ex on the Beach - Naked Male Hunk!


Connor Hunter was on series 2 of MTV's Ex on the Beach and this Nawty Essex Boy got known for running round on the show with very little on and chasing the girls. Today in this teaser trailer he shows just a hint of what you can get to see in his exclusive photo shoot for FitYoungMen.com When you are young and have a great physique and a large uncut cock, why not let us share in the pleasure!



Tags: fityoungmen, connor hunter, muscles, abs, swimwear, bulge, naked, ex on the beach, nude
---
Ripped and Stripped 2016 - Making Of Video Now Available
We had such a great time in Dorset making this 2016 calendar with 4 fantastic athletic male models, all amateurs and we hope you are going to have a great time watching this 'Making of' video full of fun and laughter.
In the full length 45 minute film, you will of course get to see what we can't show you in the trailer and it is why the film is classified by the BBFC as certificate 18. A 45 minute video is available to stream and download now.
Find out more at
Ripped & Stripped
Ripped and Stripped 2016 Full Trailer - Making of the Calendar from Ripped & Stripped on Vimeo.
---
EnglishLads 2016 Calendar - Available at These Bars
If you didnt get a chance to get a 2016 calendar from us at one of the pride events you can also find the calendar in the following bars, sauna's and hotels throughout the UK:
London, at these two bars in Soho:
The Edge Bar
&
The Yard Bar
Brighton at
Legends
&
Charles Street Envy
Blackpool at
The Flying Handbag
Bristol at
QueenShilling
Birmingham at
Greenhouse, Darlaston
&
The Village Inn
Cardiff at
WOW Bar
&
Pulse
Edinburgh at
CCBlooms
Glasgow at
Delmonicas
Hull at
Delmonicas
Leicester at
Rainbow and Dove
&
The Dover Castle
Luton at
The GreenHouse
Manchester at
New York New York
Newcastle at
The Yard
&
Eazy Street
Newport at
The GreenHouse
Southampton at
The London Hotel
&
The Titanic
Swindon at
The Mailcoach
Torquay at
Key West Resort
---
EnglishLads at Brighton Pride - Saturday 1st August 2015


A hot day welcomed us in

Brighton Pride

this year, it was rammed and two of our new lads on their first venture at a gay pride did a great job and sharing the 2016 calendar and endless selfies!

We will be doing a few more pride events, Saturday 15th August

Cardiff Mardi Gras

and Sat 29th August

Manchester Pride

.

If you dont have a chance to see us at one of the pride events you can also find the calendar in London at these two bars in soho:

The Edge Bar, Soho

and

The Yard Bar, Soho

and in Edinburgh at

CCBlooms

23-24 Greenside Ln, Old Town, Edinburgh EH1 3AA


Tags: pride, brighton, brighton pride,
---
The 2016 EnglishLads Calendar - Available Now
We've got a sexy new calendar for 2016 and four bonus months of 2015, the first month is September 2015.
We had a lot of fun making this calendar, it was a hard day, but with naked lads running around on the beach there was a lot of uncut cock flashing around. Though the water was a little chilly so shrinkage was a slight problem!
What also makes it different is we filmed the making of the calendar, so hopefully in a few weeks time we will look to edit down the mass of footage into something horny and make it available to download here on the EL website.
The photographs used in the calendar don't show any cock, but the video will show it all and I also have quite a few photograph outtakes that also show plenty of cock, all of this we will get on line over the summer for people to enjoy.
The calendar will get its first outing at Brighton Pride on Saturday 1st August 2015. During August we will also make the calendar available in bars round the country, the first two who already have the calendar are
The Edge Bar, Soho
and
The Yard Bar, Soho
Check out our hottest yet calendar and enjoy some of your favourite models running around naked on the beach and wait til you see the film!
Models in the 2016 Calendar include
Damian Willaby
,
Aaron Janes
,
Jack Windsor
,
Cameron Donald
, and
Tyler Hirst
Download PDF of 2016 Calendar
Open PDF of 2016 Calendar
Have one Delivered to Your Home buy it here
.
Tags:
2016 naked calendar,jack windsor,aaron janes,damian willaby,
---
Outakes from the Making of the 2016 EnglishLads Calendar
Just a few weeks ago we went down to our favourite beach on the Dorset Coast and had a fun filled day taking some photographs for the new 2016 calendar. This year we have done it completely seperate from RippedAndStripped our other calendar project so for 2016 we have two seperate calendars both with making of the calendar films and both with different models.
Although the day we photographed the EL calendar it was really hot, the water wasn't quite as hot and these photographs represent the first we took on the day, we just arrived and I asked the lads to get wet so it looked better on their bodies. So these are really the warm up. Aaron was the brave one who took to the waters to show off and not allowing that Jack and Damian rugby tackle him... and at full speed!
The calendar is currently at the printers and we will have these to hand out at the next three large pride events: so you will see us here Saturday 1st August 2015
Brighton Pride
, Saturday 15th August
Cardiff Mardi Gras
and Sat 29th August
Manchester Pride
. We will post details in a few weeks of the bars where you can also get a copy.
Tags:
2016 naked calendar,jack windsor,aaron janes,damian willaby,