WORKS WITH MAC, iPHONE, iPAD AND ANDROID - NO DRM
James is a really solidly built guy - he has a broad upper body, and great muscle bulk around his arms and chest, which hints at his past as a rugby player. He has a smooth upper body, apart from a little stubble on his handsome face. He's a confident young man, and strips off for us, his hanging balls and long uncut cock immediately draw you eye! And when it gets hard you see how really very long and thick it really is! James wanks hard for the camera, also bending over and showing his hole.. He flips back to being on his back, and unloads his balls all over his tense abs - what a great sight!
498 Photos

Wesley wasnít sure about doing anything but a solo shoot, but he warmed to the idea and today you see what he got up to as he ended up not being as cautious as youíd think! Wesley starts off being stripped down to his boxers and then relaxing on the bed his body is massaged real well with a strong sports massage by Cameron! Before you know it Cameron has Wesley naked massages his body doing a great job at showing off his hole, surrounded by that light blond fuzz! Cameron is soon wanking Wesleyís very stiff uncut cock and feeling without a job he grabs Cameronís uncut cock and returns the favour! Lots of wanking later and Wesley is unloading his cum, while holding his comforter!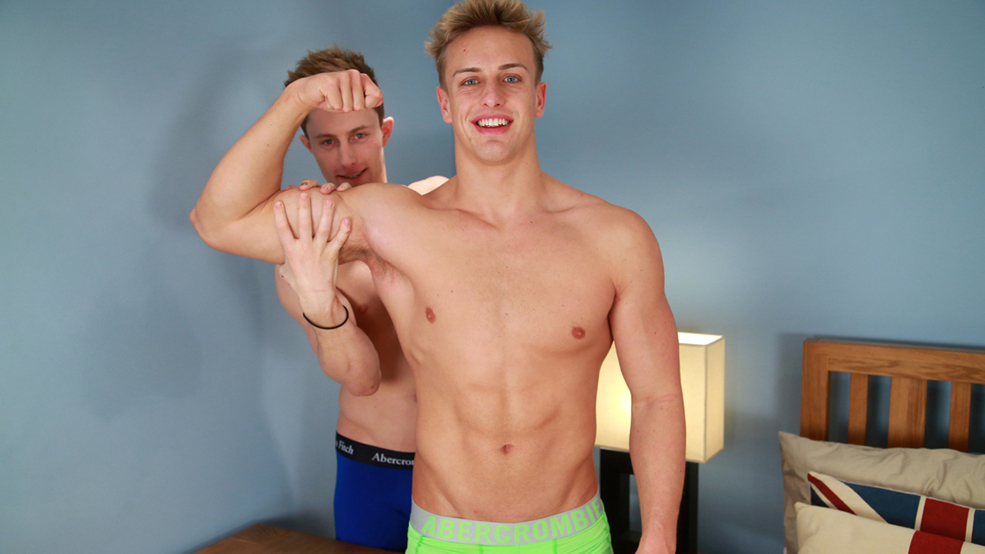 491 Photos

Since Logan did such a great job at getting fucked last time we paired him up with former Royal Marine Tyler to experience how commandos do things! They are straight at it, Logan goes in for a kiss and the passion is obvious and what else do you do following a kiss; suck cock of course and Logan is on his knees, pulling down Tyler boxers and practicing his cock sucking technique and judging how hard he gets Tyler, his cock sucking is pretty dam good! Tyler returns the favour before bending Logan over in doggie and teaching him how marines lube ass; with a dildo pumped at speed! Tyler pulls that out and slides in his own uncut rocket cock; Logan seeming to enjoy rock hard marine up his hole and canít get enough of it riding eagerly, before dumping an impressive load, with many a big squirt flying! Tyler pulls out and seconds later is unloading on his leg! Well done lads!
437 Photos

Jason is a young straight man who teaches football and with one of those typical footballer bodies, he looks great as his kit comes off. He is tall and lean with good definition and strong footie player legs. As his clothes come off he becomes more cheeky and once naked he definitely has a naughty side, he loves playing with his cock and showing it off on camera, in fact his cock gets so hard and he is so turned on he has to stop wanking all the time to prevent an early ending! His uncut cock gets very hard and stands up high looking like a rocket ready to fire. He is happy to show off his hole, lots of shots of a slightly hairy hole that he shows in some great positions. After teasing himself for a while he lies back and unloads, dumping a nice load on his abs.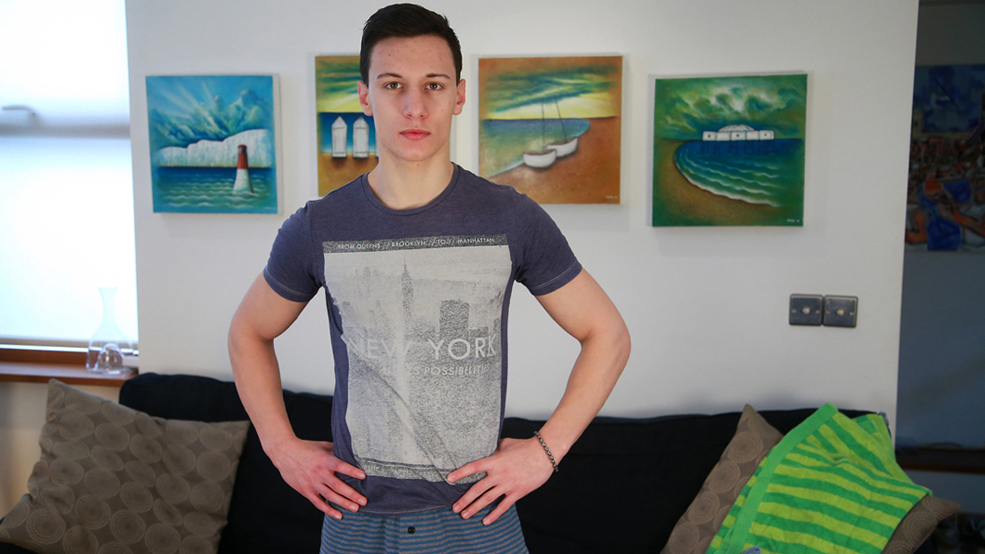 We've been pushing Ricky's boundaries fast in recent months, and today we're definitely taking a big step forward - bi lad Jason fucks Ricky - not only is this a big step for Ricky, but Jason's a well-hung guy, so Ricky's going to be in for a real education! Jason is a perky hung lad who likes nothing better than a guy to bend over for him - Ricky is a cheeky lad too - and he gets to business getting Jason hard by sucking him, and getting lubed up. Ricky takes Jason's cock really well, he gets properly fucked hard, and Ricky is hard throughout, it must be hitting the spot! Ricky cums while Jason is still deep inside his ass, spraying all over the place, and then Ricky wanks Jason to orgasm too - hot stuff!
Sam's progressed far while he's been on our site, but here's a glimpse of what his first photo shoot was like - he's a handsome, lean young boxer, great abs, defined body, a few tattoos, stunning eyes and a little stubble. Even in his first shoot, he was one of those guys whose cock immediately shot up to attention when it was released from his clothes! He's a laid back lad, but clearly gets a bit of a thrill by showing himself in front of the camera, his cock is really thick and he wanks it hard for us, shooting on his abs.
Paul is a handsome, hairy young lad who plays a lot of rugby - he's got a great physique from playing lots of sports - defined muscles, great abs, chest and arms, with a lightly hairy chest, the trickle of hair runs right down to his abs! When his undies come off his soft uncut cock is an impressive size, and he has no trouble getting rock hard for us, he's definitely a well-hung guy! I wouldn't mind pressing against him in the rugby scrum! He's got pert bum, which he pulls apart for us to see his lightly hairy hole, and when he cums he shoots a big thick load over himself.. he must have been excited!
508 Photos

Tall and blond straight hunk Josh is trying something new today and having received in his last shoot such a good massage from Cameron it is his turn to do a little work today! So the lads show off their ripped bodies and do some wrestling and mutual wanking before Josh gets his 1st experience of cock sucking and its him doing the sucking! For a first timer he gives Cameron pretty good head and before he also seems to enjoy getting his 1st head from a guy. The guys show off each otherís asses and then they lie back and wank each other. Cameron wanks Josh, who shoots a massive load, shooting it over his chest, arm and bed, I think this straight lad enjoyed sucking cock for the 1st time! Having unloaded he wanks Cameron who unloads his cum on Joshís legs! Well done Josh, where do we go now?!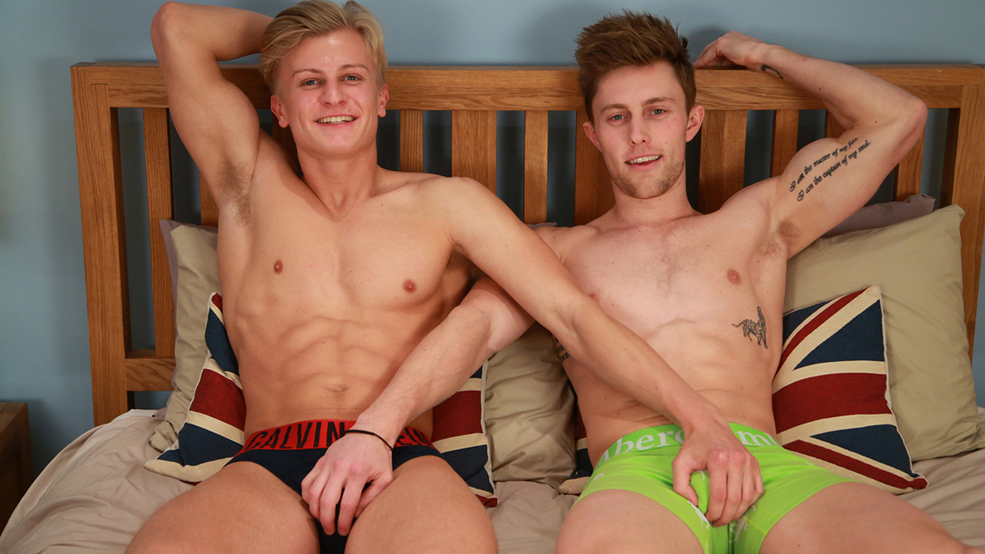 547 Photos

Liam is a young footballer and after filming todayís shoot its pretty obvious he has a devious streak and he doesnít mind showing it! After he did such a great job in his last shoot playing with a toy I suggested he went a bit further and today is the result. Who better than to break in a new boy than naughty Chris and these two lads have a real buzz together, I think they really enjoyed themselves! Nothing much left un-tried, Liam surprises us by kissing, then getting his cock sucked, then sucking cock and fucking a lad. There are so many firsts for this straight lad I have lost count. Chris cums first while getting fucked by Liam, who then pulls out and shoots his own load all over Chris! Wow Liam, you are full of surprises!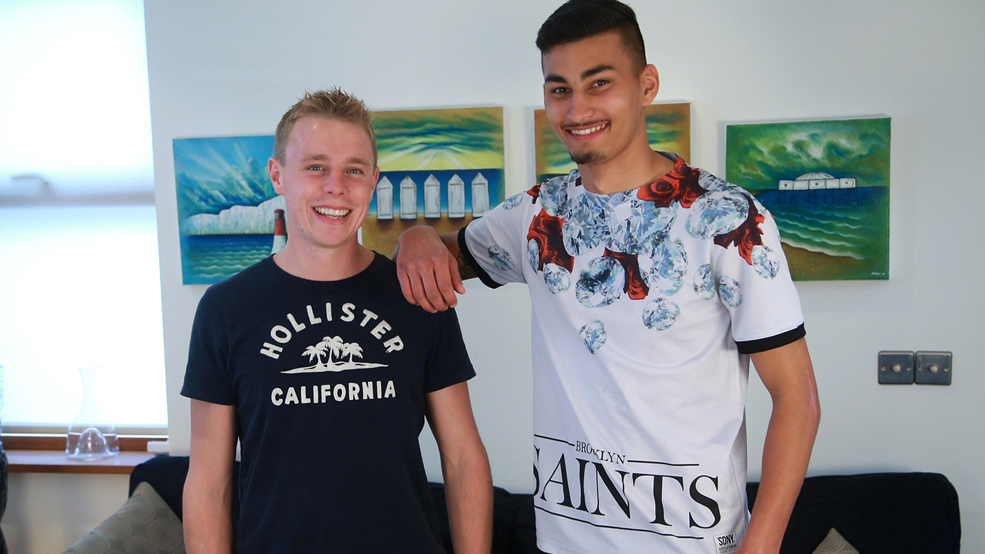 Josh is a handsome straight lad, he's tall, and as you'd expect from a tall guy he's definitely bigger than average in his pants! Dan pays him some attention today, and he really seems to go to town on Josh - stripping him off, getting him rock hard by sucking him, even rubbing their cocks together. Then, Dan jumps on to Josh and slides on to his hard cock, taking it deep inside him, Josh really fucks him hard, Dan clearly loving the feel of it in him. Dan gets fucked from below, from behind, and then shoots a big load over his leg while Josh is still inside him. Dan strokes Josh's tightening balls while he wanks himself to shooting a load too.. a really hot shoot.
That fantasy moment when an electrician comes to your house and he turns out to be a handsome young straight lad! Hunter could definitely fulfill a few fantasies - he's a really good looking young man, lean, tanned, with just a few tattoos, he has a fresh face, mostly smooth body, and cheeky grin.. his toolbelt is hiding all his tools! And it only draws attention to his groin.. he wears it just over his boxer shorts for us, and grabs his package temptingly! He's got a large uncut cock which he gets out to show us, and wanks it hard, and also leans over and shows off his bum. His lightly hairy balls go rock tights before he shoots a thick load over himself, covering his abs and his hand!
502 Photos

Patrick is a young man who plays football and goes a lot to the gym and as a result has one of those ripped bodies with nice size muscles and the odd tattoo! He has started to enjoy showing off his body, as he strips and steps out of his boxers, his uncut cock rises up into a very stiff erection! One of those cocks that canít move once he is hard, since itís just solid! Patrick enjoys showing off his body, is pretty hair free, only a little on his legs and hardly any round his hole! After showing off his body he lies back and pumps his cock real hard and gushes a nice load of cum over his abs! Great job Patrick, you wank as well as you sing!
Aaron's always been a bit reluctant to do shoots with other guys, but he's relaxed with Cameron and is persuadable to sit back and get a bit of man-on-man relaxation! The guys both look great - fit, muscled and handsome, seeing them just in their underpants stood next to each other is great! Cameron wanks and sucks Aaron, his uncut cock clearly enjoying the attention, and Aaron even lets his lightly hairy hole be shown off. Aaron is famous on this site for having amazing cumshots and today is no exception - while Cameron is sucking and wanking him he shoots a load high and far... making a huge mess!
Lewis is a tall, lean young straight lad, just come out of the army. He's a fit lad, very handsome, with a bit of facial hair and quite a few tattoos decorating his body. He plays loads of sport, especially football, and barely has an ounce of fat on his toned body. He's relaxed stripping off for us, showing us the light layer of hair he has on his chest and further down too.. and before long there's a bulge in his boxers which he's keen to get out for us! He plays with his uncut cock and also leans down and pulls his bum apart, showing he lightly hairy hole for us! He's a long shooter - when he cums he almost hits his neck!
603 Photos

Kevin in continuing his education, he has proven he is a pretty good bottom, so today he plays with Jack and shows his skill at fucking! He does a pretty good job at prepping Jack, showing he is able to suck Jackís massive uncut cock which at over 8 inches is no easy job! He is soon putting lube in Jack ass before he sticks his own uncut cock up Jack. He hasnít quite mastered the gently entry and between him pushing up and Jackís legs giving in Jack gets the fast entry and is breathless for quite some time! Kevin gives Jack a right good fucking in a load of position and before long Jack is unloading, Kevin pulls out and explodes cum all over the place. Now there is a cum shot!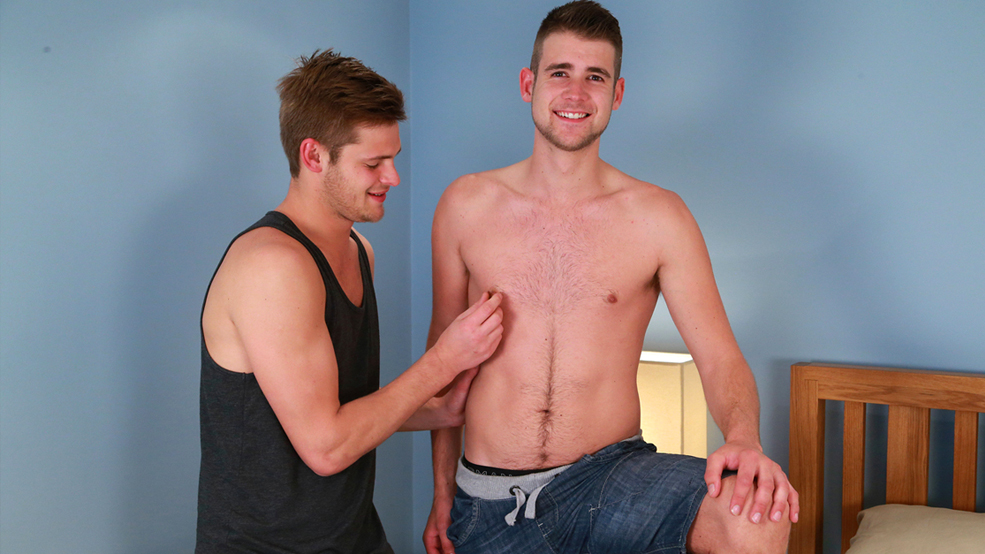 Englishlads Top Voted Male Models