WORKS WITH MAC, iPHONE, iPAD AND ANDROID - NO DRM
Cute young lad Logan is relatively new to the site, but has progressed quickly and is showing himself to be adept at bottoming! So we decided to pair him with muscle-bound former marine Tyler - tanned, ripped and tattooed as always - to come and give Logan a good seeing to! The lads kiss and get hard in front of each other, before going down on each other and it doesn't take long until Logan is bent over in front of Tyler - I think he likes it up him! Tyler fucks him long and hard, flips him over on to his back and pounds him some more. Logan's balls go super tight before he shoots his load all over the bed - looks like quite an orgasm! Tyler shoots a nice load on himself and Logan too - before they kiss again - very hot stuff!
463 Photos

Teddy is a young man with a baby face, not long turned 18, though take a look at his body and you'd think he was well into his twenties. He has recently qualified as a personal trainer and enjoys training his body and helping others achieve their goals. When not in the gym or running you can find him on the golf course, it seems like this young man can play any sport and excel! When his boxers come off you can enjoy that other muscle, Teddy has a lovely uncut cock, surrounded by a healthy bush and the second he touches his uncut cock, it rises straight up. He is another of these models with one of those rocket cocks and once he gets hard it doesn't go down! He shows off his muscles, his cock, his erection, his hole and about the only thing that is slightly hairy is his hole! After wanking his rock hard cock you can enjoy seeing how much Teddy enjoyed the shoot, since he doesn't just cum, he cums and cums and covers himself! Another straight young man happy to share.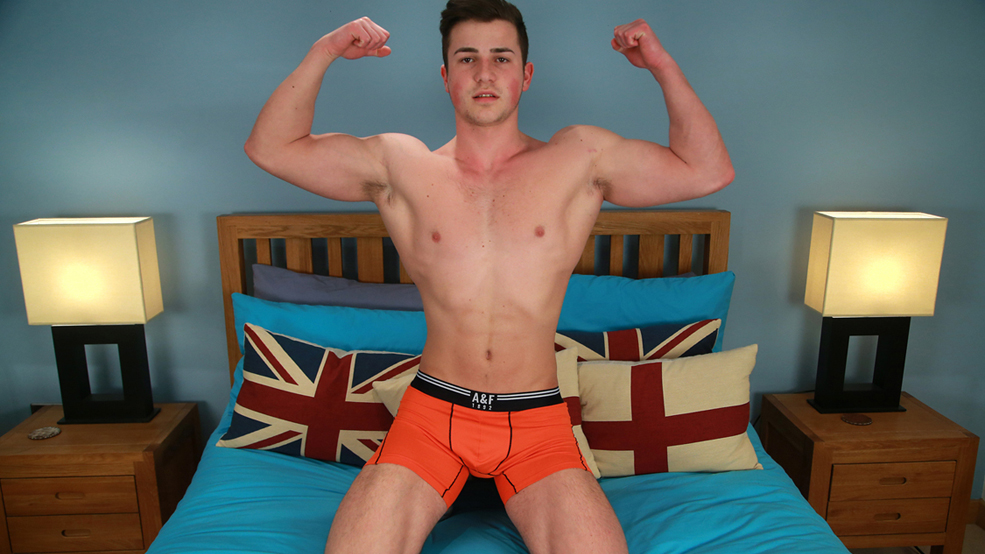 Jason is a tall handsome young straight lad who has the kind of body which is naturally fit because of the amount of sports he plays - lean, smooth and nice definition, with strong legs. He's good looking, and got a winning grin, that suggests a cheekiness too! He happily pulls off his clothes for us, and reveals a really large uncut cock - he gets hard and its both long and thick - just how we like them! He plays with it for us, while showing us his lean body, and even does a bit of kicking around of his football with his hard-on flapping around! I suspect he enjoys the whole shoot, as when he cums he explodes a big load right up to his chest! What a mess..
9 Minute Video

exclusive to 120+ day members

i

Our latest range of home movies made by the models
are only available to our 120+ day members.
All other videos can be viewed by everyone.
Aaron recorded this video at home on his phone - he's just got in from the gym and treats us to watch him have a shower and then have a slow wank - he jumps in the shower with the phone recording and we watch as he soaps down, and shows off his muscular torso and defined body, then he sits back on his bed, pulls off his towel, and gets hard for us, wanking his beautiful uncut cock until it shoots all over him - its always a big load from Aaron, he never disappoints!
Josh is a handsome lad with a fantastically defined body, a great smile, and blond hair - he seems up for a laugh, and gets on really well with Cameron, so the guys start with a competition - who can wrestle each other's shorts off first! And Josh wins that, but doesn't seem to fight his shorts coming off afterwards! Before you know it the two muscle bound lads are wrestling naked, then are wanking each others hard uncut cocks! Cameron sucks Josh and then Josh sucks back - they even have a go at 69ing - really hot to watch. Josh really gets in to it, and even after blowing his load over himself he lets Cameron shoot his hot cum over him too!
491 Photos

Tom is young man with a surprise! Not only is he very tall and muscular and weighs in at over 90kgs, but he has another generous asset! As his clothes come off your eye cant miss one massive uncut cock, he is 6 inches when soft and when it grows its around 9 inches and 7 inches round. Not just a very long uncut cock, but one of the thickest I have ever seen. Tom also has that nack of being able to get naked and get an instant erection, his cock going from soft to rock hard in just a matter of seconds. His cock when hard looks real heavy, he handles it with confidence and is only too happy to show off his body, cock and slightly hairy hole, before he sits and unloads his weapon over his abs! Wow another straight lad with an impressive secret weapon!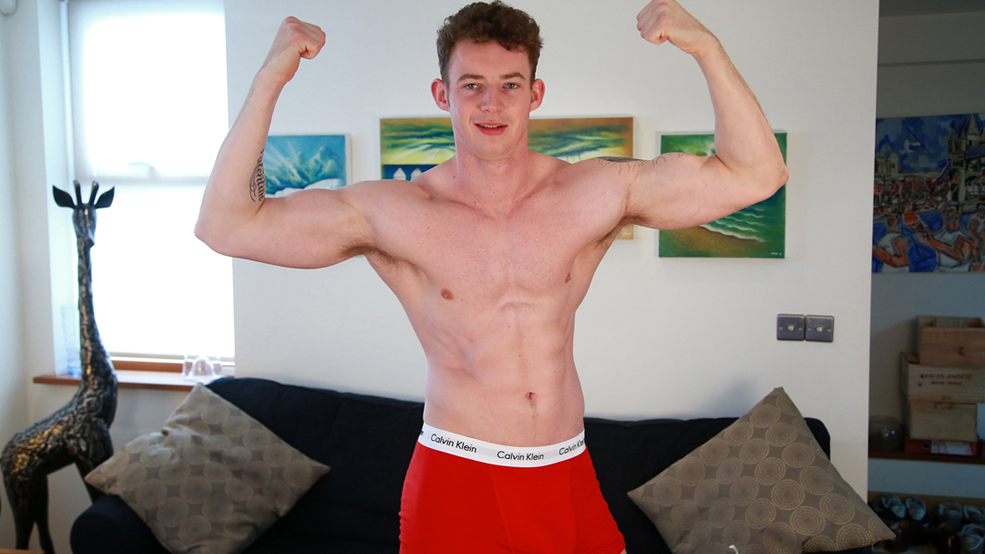 569 Photos

Straight Lads Sam and Josh are helping each other a lot in this shoot; starting with feeling each other through their boxers its not long before Josh is sucking Sam and he realises just how thick Sam is! Not only is Sam chunky, but he is also very long and Josh does a great job at managing to nearly suck the whole dam thing! Sam is nearly eight inches long and 7 inches round, so it's a real stretch to get this monster of an uncut cock in your mouth! Sam then returns the favour and manages to gobble down on most of Josh's uncut cock. Once he is done with Josh's cock he lubes up Josh's ass and sticks his big cock in his hole and pumps it with enthusiasm! Sam fucks Josh real well and with his ass stuffed Josh unloads, dumping his load on his leg, Sam pulls out and dumps on his abs! Two happy straight men!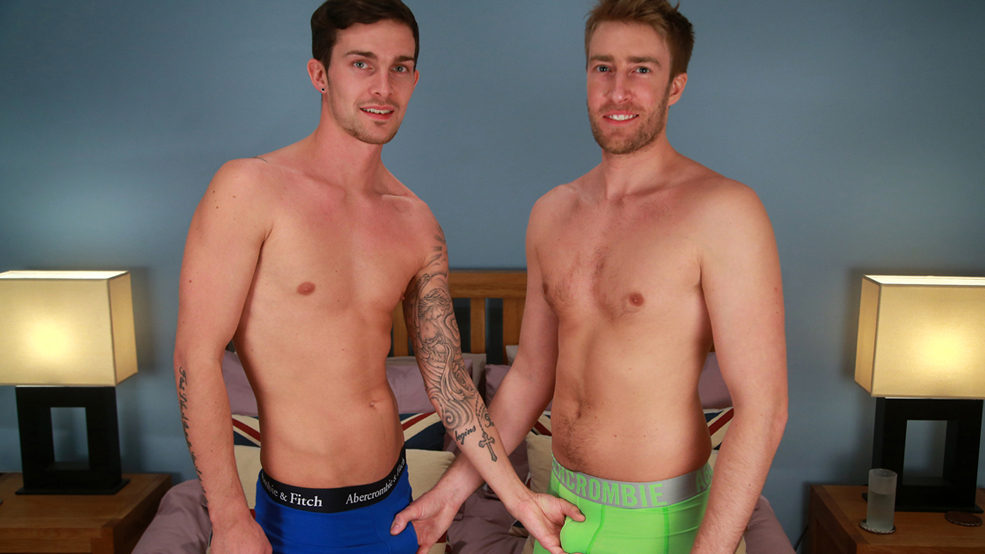 We asked three of our hottest models to come together for this shoot, it was huge fun - cheeky personalities and hot bodies! Jack, Andrew and Cameron are a threesome that dreams are made of - they are all super-fit, and all now feel relaxed showing off their bodies in front of the camera, and each other - even with the inevitable comparing that straight lads do! Even though they're all relaxed, even I was a little surprised the boundaries that were crossed - Cameron gets on his knees and tries sucking cock for the first time and Andrew wanks a guy for the first time. Jack has done both of those before, but gets two cocks into his mouth at once - now that's a skill! This shoot has lots of showing off of fit bods, lots of mucking around, lots of bum shots and plenty of cock! The glass table is the lucky recipient of all three heavy cumshots - great work guys!
Liam is a young lad who in this shoot progresses fast and tries things I wasn't expecting him to! It was a sunny day so we shot this on the roof - nothing quite like seeing two straight lads getting in on in the open air! Liam is a lean guy, plays lots of sport, and we paired him with Chris - who has a devious edge himself, and knows how to bring out the devious edge in others! The guys get naked pretty quick and exchange sucks - getting hard in each other's mouths, also kissing too. Chris then bends over and gets ready to take it from Liam - Chris gets pounded well, taking Liam deep inside him, and also squatting on Liams hard cock until Chris blows his load, shooting all over himself - he jumps off and Liam cums too, unloading his balls in the sunshine!
464 Photos

Travis is a young man with a great physique and as a personal trainer he is a brilliant advert; you see him in clothes and you get the impression he has great shape, once his clothes come off not only has he great muscles, but is ultra lean with great definition. To top that his body is pretty hairy and his legs very much! He is slowly growing his chest hair having never let it fully grow, now he is warming to it! He strips down and shows us his uncut cock as he lies around very casually on the bed and as soon as he touches it his uncut cock rises up and is soon rock hard slapping up against his abs! Travis shows every part of his body real well before lying back and shooting a load of cum over his chest and abs and bed! Wow another straight lad who knows how to put on a great show.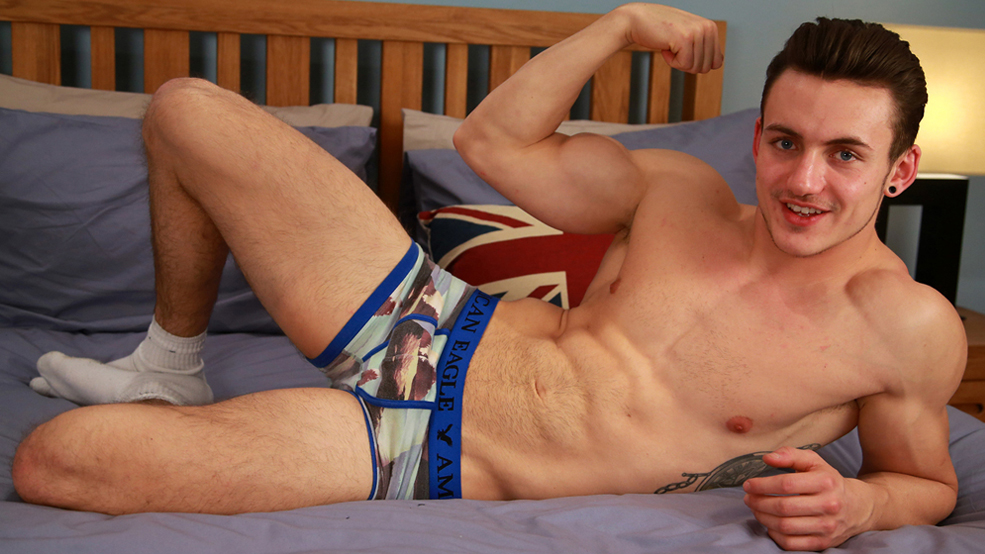 Patrick is a young lad who has a fantastic, lean, taut muscular body - powerful and strong. He has very little body fat, which means his physique shows really well. He's decorated with quite a few large tattoos and has a smooth chest, but a short beard and bushy hair around his cock! He slips into a tight pair of speedos and we get a glimpse of his uncut cock, a nice size, and soon its rock hard and then doesn't go down! Patrick pulls his pert bum cheeks apart for us before carrying on wanking, his cock and balls wrapped in his speedos - until he shoots a load - long and far!
Aaron is a great looking lad - which explains why he's always been a popular model of ours. He's got a great body - fantastic definition, but with a boyish face, and playful personality. In this bonus video of his photo shoot he's typically flirty and fun - shows off his body - every bit of it! and his cock is as rock hard as his abs! In this shoot he even shows off his bum - which he was previously reserved about. The best is at the end though - Aaron shoots a characteristically large shot of cum - hitting himself on the neck with it!
Kevin is a tall, good looking lad - done quite a lot for us over the time he's been modelling and even bottomed rather well, but today we've got him proving how good he is at fucking another guy - and Jack is our favourite to get it from him! Jack is a cheeky, playful lad - he's grown quite adept at putting other straight lads at ease, and does so with Kevin - stripping off with him and then going down on his hardening cock. Kevin sucks him back, before lubing up Jack's arse and sliding his long hard uncut cock deep in! Jack's huge cock stays rock hard while Kevin pounds him from underneath, until Jack shoots his load all over himself, and Kevin pulls out and blows his own load over himself!
498 Photos

Wesley wasn't sure about doing anything but a solo shoot, but he warmed to the idea and today you see what he got up to as he ended up not being as cautious as you'd think! Wesley starts off being stripped down to his boxers and then relaxing on the bed his body is massaged real well with a strong sports massage by Cameron! Before you know it Cameron has Wesley naked massages his body doing a great job at showing off his hole, surrounded by that light blond fuzz! Cameron is soon wanking Wesley's very stiff uncut cock and feeling without a job he grabs Cameron's uncut cock and returns the favour! Lots of wanking later and Wesley is unloading his cum, while holding his comforter!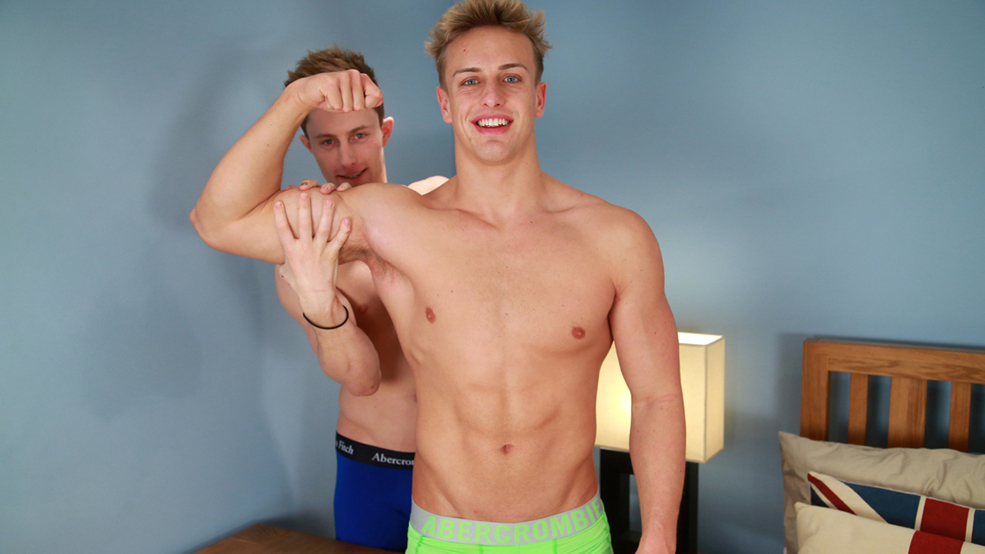 491 Photos

Since Logan did such a great job at getting fucked last time we paired him up with former Royal Marine Tyler to experience how commandos do things! They are straight at it, Logan goes in for a kiss and the passion is obvious and what else do you do following a kiss; suck cock of course and Logan is on his knees, pulling down Tyler boxers and practicing his cock sucking technique and judging how hard he gets Tyler, his cock sucking is pretty dam good! Tyler returns the favour before bending Logan over in doggie and teaching him how marines lube ass; with a dildo pumped at speed! Tyler pulls that out and slides in his own uncut rocket cock; Logan seeming to enjoy rock hard marine up his hole and can't get enough of it riding eagerly, before dumping an impressive load, with many a big squirt flying! Tyler pulls out and seconds later is unloading on his leg! Well done lads!
Englishlads Top Voted Male Models