WORKS WITH MAC, iPHONE, iPAD AND ANDROID - NO DRM
Ricky impressed us in his last shoot where he bottomed so well that we decided to push him further and paired him with Jack - who has such an enormous hard cock that we figured Ricky would well and truly be challenged by him! We've been looking forward to this pairing - both Jack and Ricky are loud, cheeky lads - strong personalities and confident guys - we figured the shoot would be a bit of a laugh! Sure enough the guys are comfortable in each other's company and are soon playing around with dildos and sucking each other - both getting rock hard. Jack pushes a dildo deep into Ricky's hole, and Ricky takes it well - so Jack tries his hard cock instead! And Ricky does take it, clearly the size of it means that he really does feel every inch go in! But he takes a good fucking, and cums with Jack still in him, then Jack pulls out and splurges a nice load over himself!
568 Photos

Four straight men and its all started with an art class! Cameron is the life model and Tyler, Aaron and Wesley are busy drawing him! The drawing goes ok until the lads are requiring more ďpackageĒ so Tyler comes up to Cameron and pops a banana in his boxers! Before you know it Aaron is pulling down Cameronís boxers and Tyler is filling his mouth giving Cameron a great blow job! Royal Marines special training has taught Tyler a few neat tongue tricks and judging by Cameronís rock hard erection, Tyler is amazing at giving head! Lots of cock sucking following, Aaron & Wesley learn to wank two cocks at once and enjoy getting head from Tyler and Cameron. Lots of wanking, sucking and hole showing later and Aaron blows first release a huge cum shot, quickly followed by Cameron, Wesley and Tyler. Four straight men enjoy a group wank.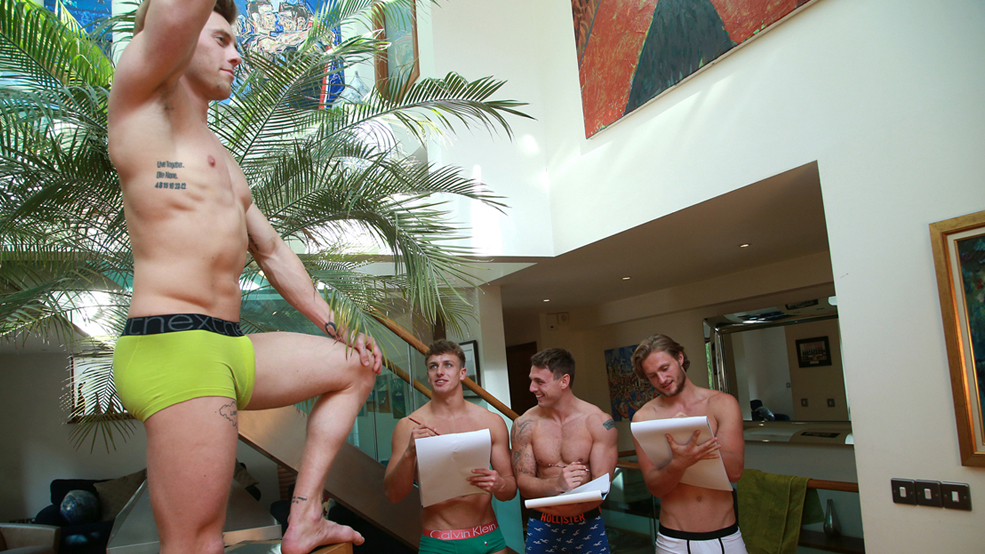 Jaden has become a really popular model on the site, but he took a little while to warming to having any man-on-man action! He's a fit young guy - lean and handsome. This video is of the first photo shoot he did when he got sucked by a guy - the lucky helper is Dan of course. Jaden does relax into it after a while - when he realises how nice Dan's warm mouth is! Dan sucks Jaden through his boxers, and with Jaden on top of him, and then wanks him furiously until there's a big white sticky end!
495 Photos

Over a year ago we planned to get these two together and its taken a long while, seemed like a natural partnership since naughty Chris is always so horny and Josh loves a right good fucking. So here we have it, a bit of teasing and the lads are soon sucking off each other, two nice hard uncut cocks and Chris is soon sliding his very hard erection up Joshís ass. Josh takes a deep breath and is soon enjoying every inch of Chris. Chris is usually the one getting fucked and today shows how good he is at exercising a lads hole! Josh is first to blow and unloads quite a load of cum. Chris pulls out and explodes, Josh unable to believe how much cum covers him! Great jobs lads.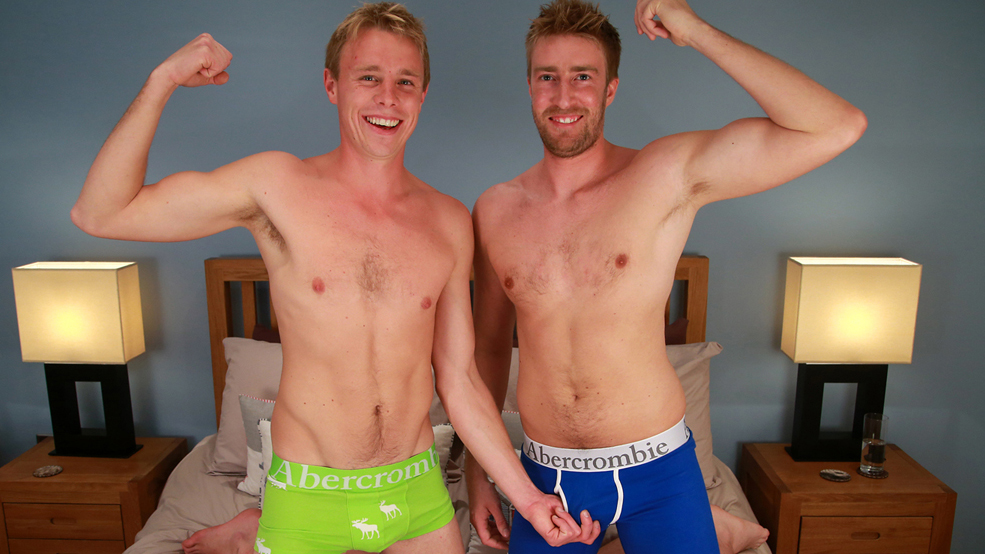 Teddy is a very handsome young lad - he has a very handsome, boyish face, very cute, which belies his well developed body. Although a young lad, Teddy is a very active Personal Trainer, and his upper body is really muscular, with strong shoulders and arms. He legs too are rock solid and thick - this guy looks great! After taking off his clothes he plays with his uncut cock and gets hard for us - wanking it hard and showing off his bum as well, leaning over with his bum in the air! When he shoots its a great shot - thick cum splatters up to his chest and almost his neck! That's what we like!
Tom is one of those guys who is just absolutely solid in his build - he's very tall, muscular, thick arms, developed chest, and great set of abs. He is a confident lad and has every reason to be confident naked - the monster that he hides in his pants is enough to make your eyes water! He reveals this huge asset after showing off the rest of his body. He starts off soft, but even then his cock is bigger than most, huge and uncut - when he gets hard the real massive length and also thickness of it becomes clear - this lad must have a lot of ladies chasing him, and probably a few men chasing him too! Tom is relaxed enough to pull open his bum cheeks and show us his hole, bending over while he wanks, then he lays back on the sofa and pleasures himself, wanking slowly until his body tenses and he unloads his balls all over himself! A great show from a muscular stud..
513 Photos

Damian is a fit young athlete who plays lots of sports, more recently muay thai so he one of those bodies with all muscles defined, very strong logs and quads and a smooth and muscular chest with broad shoulders. Seems like the sports have not only sculpted his fine body, but his cock is also big and strong, stands up tall and rock hard, an uncut cock that looks great soft of erect. Damian enjoys showing off his body, his only hairy parts are very hairy legs and a slight fuzz round his hole! He enjoys his wank on camera and after all the working out he lies back and squirts a big load over his chest! Another straight lad happy to come and show us his great body.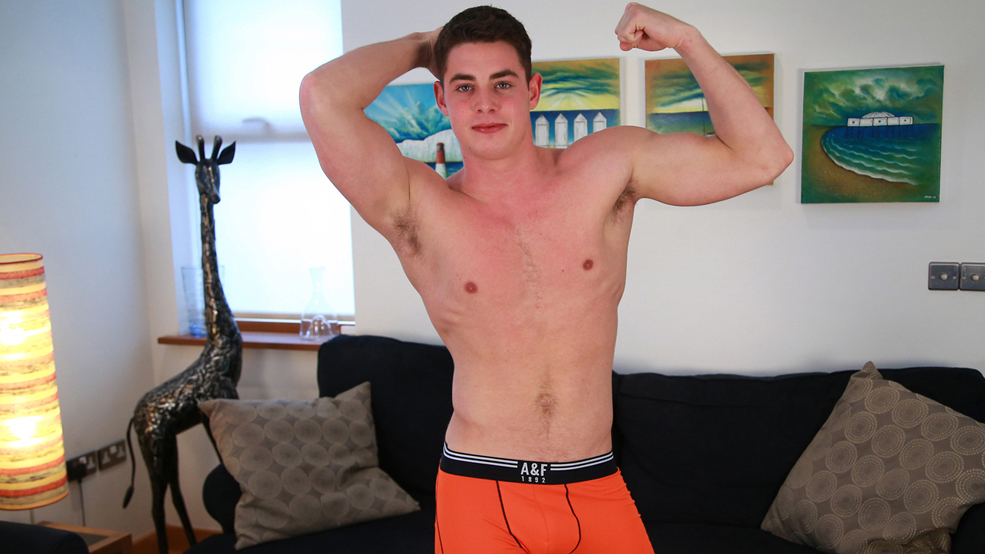 508 Photos

Logan and Liam have come together in the sunshine, its starts with kissing and then lots more kissing and they are soon undressing each other and there is no sight of soft cock, both lads have erect uncut cocks from the get go! They suck off each other and before you know is Liam is fingering and putting lube up Loganís hole; he starts to fuck him and gets a mood change! Before you know it Liam is sitting down on Loganís cock, its proving hard in the first position, but get him in doggie and on his back and straight footballer Liam is taking his first cock like a way more seasoned bottom! After Logan fucking him on his back Liam canít hold back any more and he unloads a nice load of cum. Wanting to return the favour he wanks off Logan who unloads loads of cum all over the place. Two straight lads in a great fuck scene.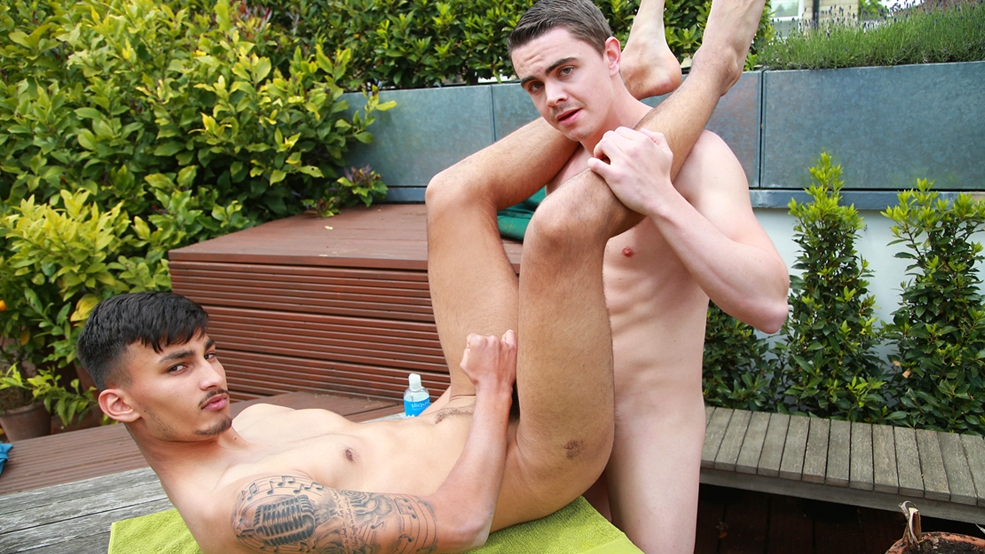 12 Minute Video

exclusive to 120+ day members

i

Our latest range of home movies made by the models
are only available to our 120+ day members.
All other videos can be viewed by everyone.
Jack's one of our more mischievous models, and he shows that in this fun home movie that he's made for us - he knows of a disused quarry that has become a secluded lake - the perfect place for a bit of nakedness! Jack sets this up great - getting us ready for the fun, he finds a perfect spot, lays down his towel and strips off for us - jumping in and having a quick swim before laying out and wanking off in front of the camera, shooting over himself before jumping back in the cold water - nothing like a bit of al-fresco cock fun!!
Straight lad Sam is a good looking, popular boxer, with handsome face, and cute eyes, along with a tattooed body and happiness to experiment! We've paired him with Josh today for a hot session where Josh is going to get it good! The guys waste no time is going down on each other, getting each other hard and ready for action. We get out a dildo and Josh relaxes his hole but pressing the toy into him, and Sam helps out doing that too! Then Josh bends over, and Sam slides himself into Josh's hole - and fucks him good - the best position has to be with Josh bouncing on Sam, while Josh's own massive hard uncut cock is bouncing around! Josh shoots his load while Sam is in him, and then Sam pulls out and shoots over Josh - very hot.
580 Photos

James is a tall young man with a great physique, he plays a lot of football, loves the gym and works as a roofer, so all that physical activity has resulted in his big muscles and beautiful definition! He enjoys showing off his body, and doesnít hesitate getting naked and as his boxers come down you can enjoy his other big asset! James has a big cock, not just long but his uncut cock is real thick and he can hardly get his hand round it! Once naked he does a great job at showing off his body and specially for the shoot he has shaven his hole so you can see every detail! Straight men love getting naked on camera and judging by his cum shot, his load flies past his head and splats on the floor way past his head! Wow now that was impressive, another turner on straight guy!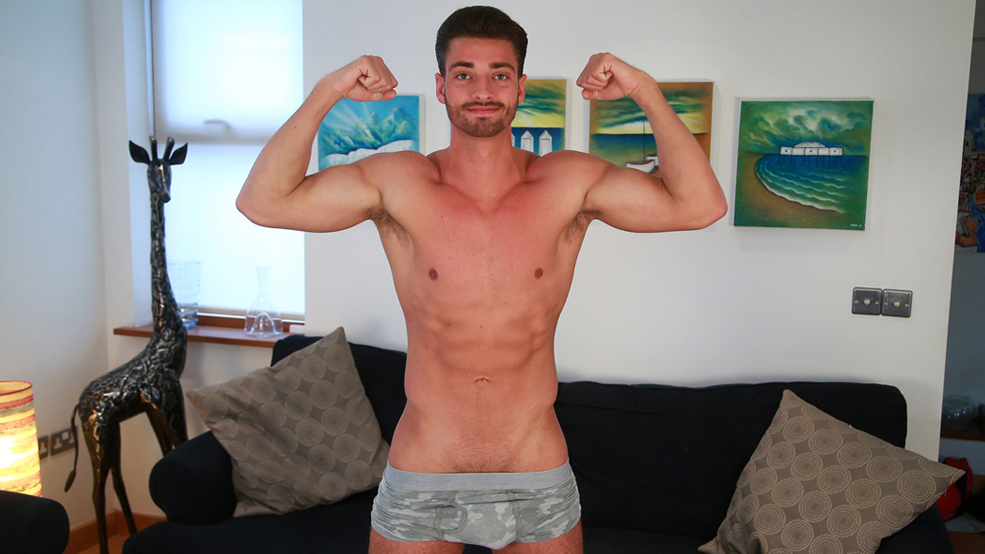 Travis is stunning guy - he's extremely handsome with the most perfect blue eyes, and he knows how to look after himself. He's ultra ripped - a great build, with really defined abs, check and arms. He's a personal trainer and its the stuff of fantasies to imagine him making you do squats! He has really big balls, and a nice size cock, which points up with very little attention, and a cheeky tattoo on his bum - I think he knows how to flirt and I'm sure he has many fans! In this shoot he wanks for us, shows us his bum, and finally shoots on to his abs - but shoots so high it almost gets his chest.. what a sight!
Young lad Harry is a good looking blond lad, with an attractive smile and body that is naturally looking good after doing lots of sport - he's got a fantastic six pack and good definition and his personality comes across really well on camera - relaxed and happy, eager to please! This is the video of his first photo shoot, and he does really great - no wonder we invited him back! He plays with his uncut cock and shows off his bum, and his cum shot goes all over his tensed abs - looking great, Harry!
Wesley is a really muscle bound young guy, huge grin, extremely handsome, blond, and just one of those guys who just seems to be built bigger than everyone else! Definitely the sort of guys who turns heads (guys and girls!) when he walks into a room! He has been slightly shy in the past, but in this shoot with Cameron he loses some of his reserve, and after stripping off seems to quite enjoy getting wanked off by Cameron, and even grabs Cameron's cock and wanks him too! Seeing these studs naked is more than a treat, Wes's well built body tenses as he shoots on to himself - yum yum yum!
556 Photos

Marc was feeling a little experimental and more confident than in his last shoot so today he sort of takes charge and is the model giving the massage! I think he enjoys massaging Cameron getting a chance to check out his body and compare who has the biggest muscles! Before you know it Marc is wanking Cameron and realising its quite fun to have a cock in both hands! After doing a great job on Cameron he is allowed to lie back and receive his first blow job from a man. Judging how hard his uncut cock is then itís pretty certain he isnít minding the whole experience! After lots of wanking each other off, Marc jerks Cameron to a sticky ending firing Cameronís cum all over his abs. He then relaxes back and lets Cameron wank his uncut cock til he shoots a nice load of cum over himself! Wow Marc, we canít wait to see your adventure continue!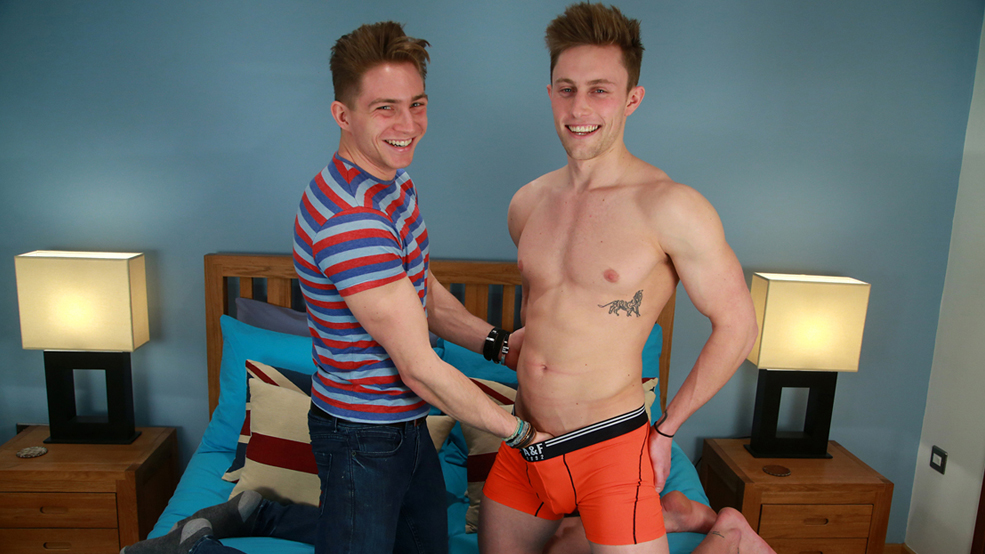 Englishlads Top Voted Male Models