WORKS WITH MAC, iPHONE, iPAD AND ANDROID - NO DRM
Now here is a match made in heaven; two straight boys, Rich is a Personal Trainer and has a surprise in his pants as he is hung like a horse and enjoys having his big uncut cock being played with, so who better than naughty boy Chris! Chris is lean and toned and nicely tanned and leading this shoot he is soon in Richís boxers and pulls out Richís 9 inch uncut cock and manages to down nearly the whole thing. How did he do that, though when you see him sit down on Richís uncut cock; how the hell did he manage that?! It didnít go all in straight away, but after a little expanding straight pup Chris slides down the whole of massive Richís cock and check out his facial expressions! Anyone gay guy that can ride horse hung Rich is impressive, so to see Chris do this is amazing, since he has only had a little poke around in our shoot in Spain. Today it is in deep and full and check out how Chris rides it and judging how much cum explodes over him, he didnít mind Rich probing his back alley! Lots of fun these two, Rich pulls out and does his own impressive real intense cum shot! Real straight boys having gay sex, it has to be seen to be believed.
Ben is a handsome lad, very easy on the eye! His muscly torso is really impressive, developed from being an MMA fighter and regular gym work - he's naturally muscly, tall and he's also pretty smooth all over. He smiles with ease, and looks like he's having great fun in front of the camera, stripping off, showing us his tattoos, and more than anything the monster that he hides in his undies! His uncut cock looks quite eye-watering, and when it gets hard, and he starts wanking it furiously its a beautiful sight! Ben lets us see his hairless hole too, and gets on all fours for us to see his dangly balls from behind. When Ben shoots he fires a load and it goes right over his shoulder, we love guys who do that!
539 Photos

Straight young hunk Tyler is well into fitness, when not doing gymnastics he is training for MMA and when not looking after his own body he is busy working as a personal trainer. Tyler has a great physique, his muscles are pretty bold and in your face, he has great definition and being almost hair free, you get to see every lump and bump that makes up his body. Stood around in his boxers and you can help but be distracted by a large lump! These are some full looking boxers and when he does the reveal, you take a deep breath and canít help but admire his ultimate weapon! Tyler has a really big uncut cock; he must around 9 inches of long and thick uncut meat, one beauty of a cock! He shows everything off real well, including his hair free hole and after all this teasing he lies back and dumps a nice load on his abs.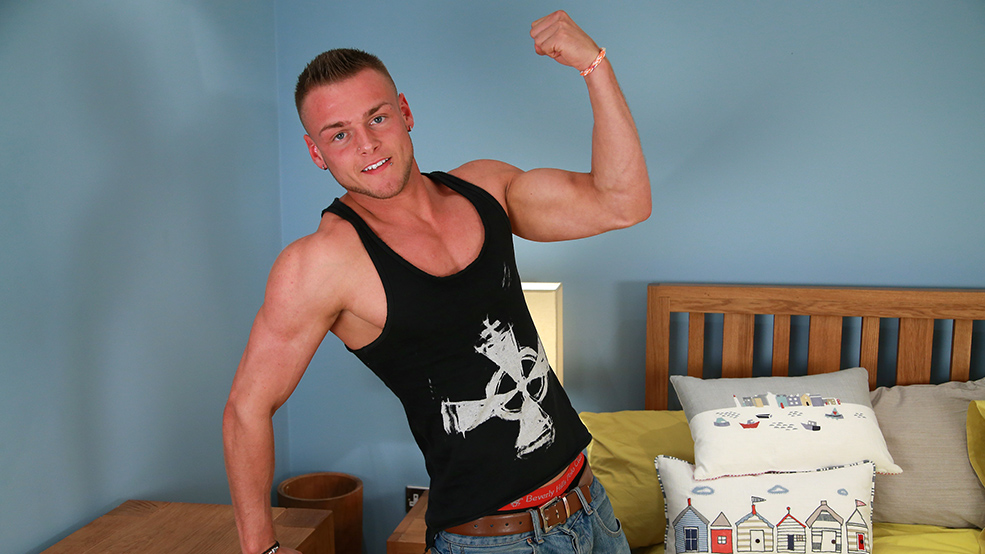 539 Photos

Max came on quite a journey in this, only his second shoot. Today he has Jack to deal with and his boundaries certainly get tested as Jack is soon looking into Maxís boxers and making jokes! Boxers off Jack is down blowing Max and after getting Max very aroused he challenges him to play with his cock! Before you know it Max is wanking off Jack and its not long before he has Jack in his mouth! Max comes on a great journey, letting Jack wank and suck him and then returning the favour. Donít you love it when straight men just have fun, knowing they are straight, but happy on camera to take us on a journey. After loads of mutual wanking and sucking and bum shows they both lie back and unload cum on their abs. Well done Max that was quite a step up!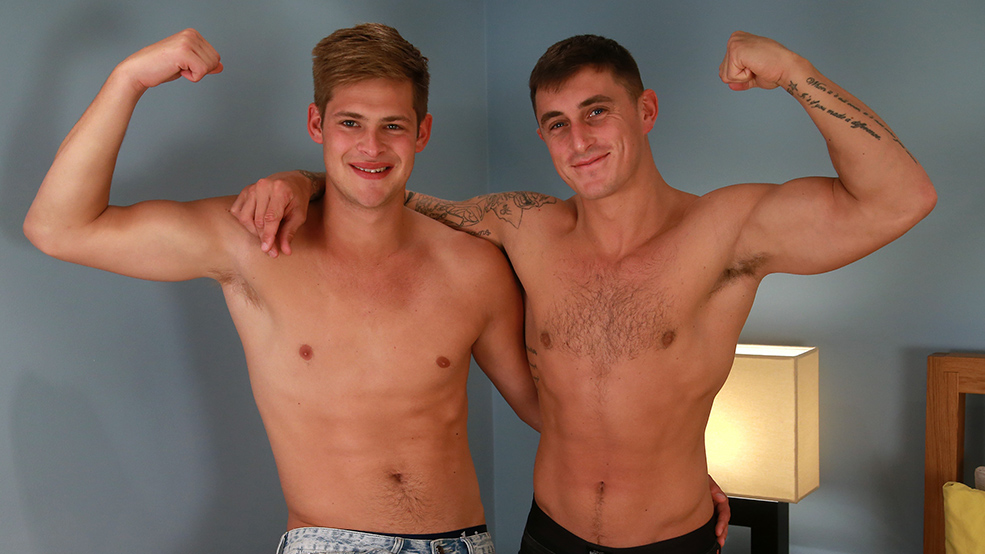 Cory is one of those models that oozes masculinity - straight, well built, muscular - he's a real straight stud, and really handsome with it. Dan's the lucky lad who gets to get his hands on this attractive guy, and you can see he wants to get his mouth on him too, but has to resist! Cory gets helped out of his clothes, revealing his solid legs, big bulge in his pants, and impressive chest and upper body. His cock stands up straight after just a tiny bit of attention and Cory is happy to get his cock and lightly hairy bum massaged, even allowing us to push back his legs to show off his hole. Cory is wanked until he shoots, and he shoots big, splattering himself with all that man-juice!
Both Jack and Cameron - two of our most popular models, have never been afraid to push their own boundaries, but today they go further than you might have expected! We've raided the toy draw, and got them together to see what fun activities they can come up with. They both look a little tentative to start with, waggling the dildos slightly reticently, but once the clothes come off they both start getting into it - pushing the dildos into each other, working each other's holes, riding the plastic cocks, and even getting out the double ended dildo and getting an end into both of them! They also take to sucking each other, until each one is ready to shoot - Jack shoots on himself, and Cameron splatters his load over Jack.
377 Photos

George is a young man who strips as a job so he isnít shy about taking off his kit, but he admitted nearly all the work he has done has been in front of women! Once some of those clothes come off you can admire his big physique, he is very tall and broad and at 98 kgs certainly stands out especially when he flexes those bulging muscles. Down to his boxes you get an impression his cock is also going to be large and we are not disappointed his uncut cock is truly as generously proportioned as his body! George does a great job at showing off his near hair free body, he has lots of hair but because of his stripping he removes it all, so you get a clear view of a hair free hole! George lies back and unloads, stating he was real nervous saying on his g/f has seen that much!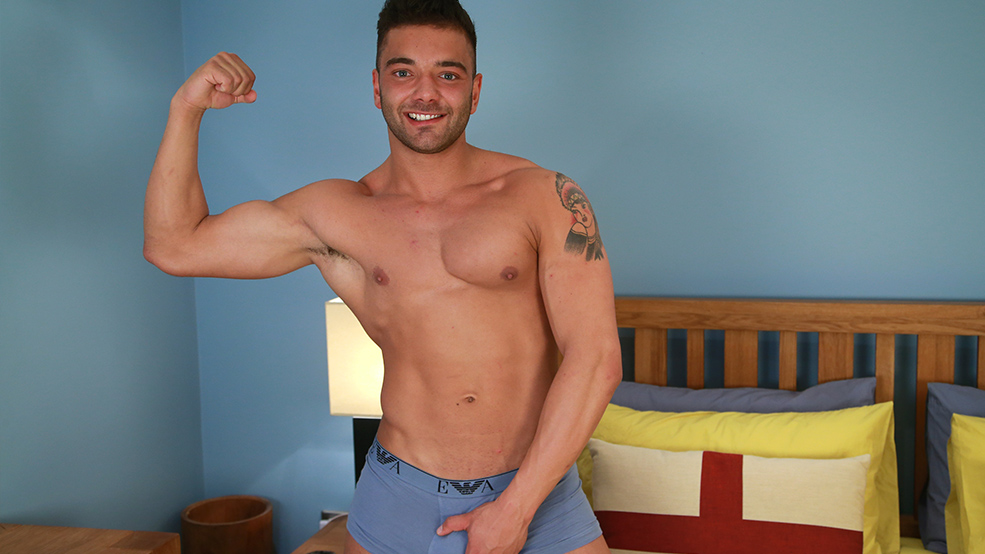 Tom is a real hunk of a guy - tall, extremely muscular, naturally broad and very hairy - definitely falls into the alpha-male category! The sort of guy you see with his shirt off and makes you want to do anything he wants! Cameron got the lucky job of pleasuring Tom, Tom stripped off and Cameron oiled up his hands and got to run them all over Tom's back and bum, making him relaxed and aroused, flipping him over and gently massaging his large uncut cock and balls, and even going down on Tom, sucking his cock and treating him to a man-on-man sensual experience. Tom seems to get really into it, enjoying the feeling of a man's mouth on him. Cameron leaves him to explode, shooting a nice big load out of his uncut tool, as his body tensed in orgasm. A very nice sight!
Kian is one of the more muscly models on the site - he is solidly built - even before any clothes come off he's clearly a very masculine guy, broad shoulders and long surfer-boy hair. When the clothes come off you get to see his incredible physique - definitely a plus if you like tattoos, but the muscles on this guy are great - abs, chest, thick legs, and emerging from his boxers a cock that is really thick and just stays standing to attention at all times! Kian is really aroused all though the shoot, shows us his smooth bum and strokes his meaty shlong, and tight shaved balls. He shoots a thick load of cum on himself, if only it was on me!
Briley is the sort of young lad who is handsome enough to turn heads when he walks into a room, he is a good looking guy, with stunning blue eyes, and today he has some masculine stubble on his face too. He's got great definition - packed with quite a lot of muscle, especially in his upper body, the sort of body where you just want to rip his clothes off! And when you see under the t-shirt you see that his body has a light amount of hair, is extremely masculine, and he has firm tight abs. His legs are very muscular and when his pants come off his uncut cock and big balls look really tempting! Briley shows us his tight hole today, bending over on the bed, then gets hard and pleasures himself for us - his thick uncut cock explodes over him and showers him with splurges of his juice!
445 Photos

Niall is a confident young man who plays football as a career and has just discovered that he can also make some money showing off his lean and toned body! He is smooth bodied and slightly hairy legs, though he has real powerful legs which look great from all angles. Niall seems to have a naughty streak and when he took off his boxers he turned away from the camera and gave is a great view of his hairy bum! In this his first shoot he also gets so carried away he shows his hole real well and then probes it with a vibrator and does a great job at pumping his hole. After all this teasing of his hole and lots of wanking he lies back and unloaded his cum on his abs. Wow, not a bad opening entry!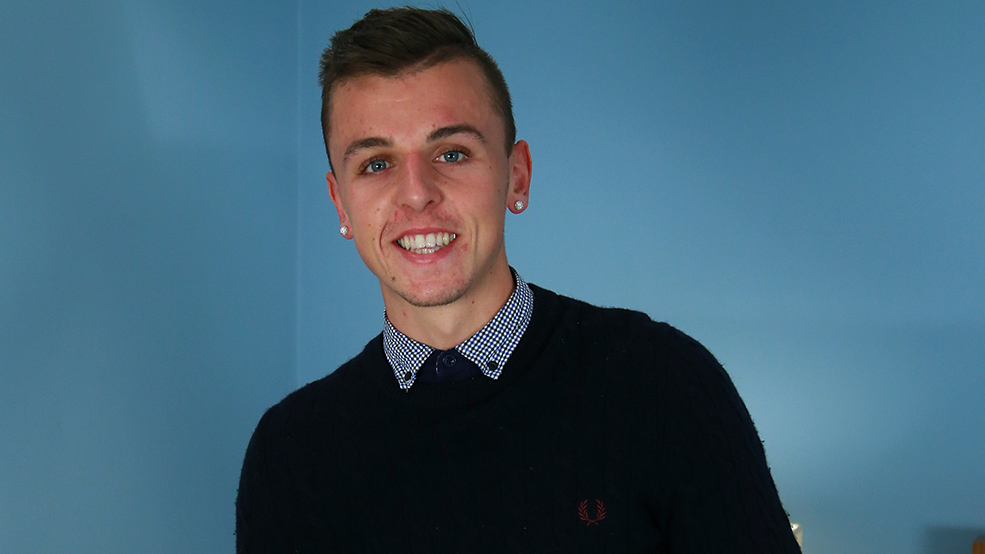 559 Photos

Jon has been paired with Tyler, straight former Royal Marine Commando who today proves sometimes you canít follow orders! I suppose it was quite a challenge; it all started off with Jon blowing Tyler who proved how to properly deep throat. So it came to Tyler turn and what he soon discovered is cockís can be too big! Jon is a massive lad, his cock is just over 8 inches, but its thickness causes a real issue and straight lad Tyler discovers he canít quite follow order and deep throat young Jonís massively thick uncut cock! Though after failing that challenge Tyler is soon back on safe ground as he shows Jon how a Royal Marine fucks! Hard and fast is Tylerís technique and he makes it look so easy as he pumps Jon real long and hard. After all this fucking Jon is soon gushing a load of goo, soon followed by Tyler who dumps seconds later.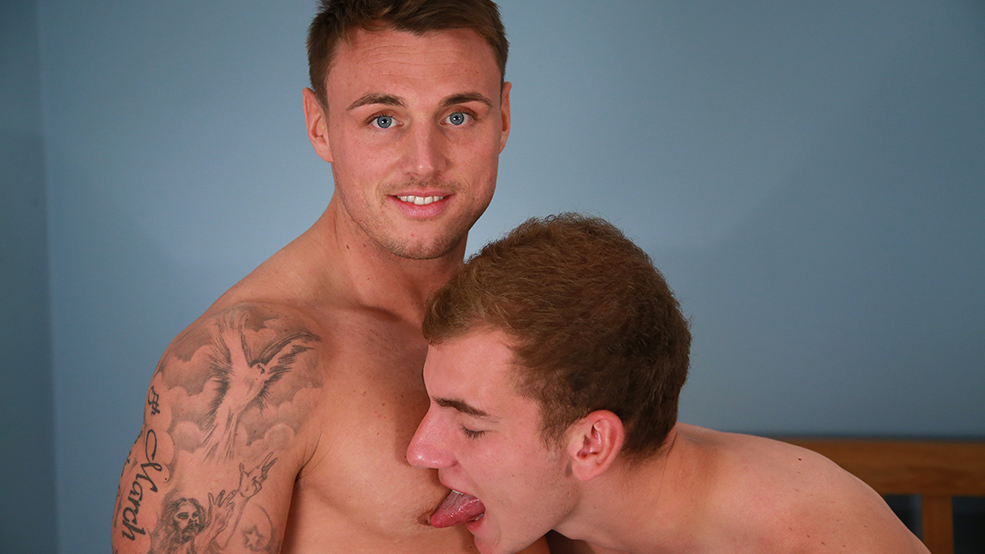 17 Minute Video

exclusive to 120+ day members

i

Our latest range of home movies made by the models
are only available to our 120+ day members.
All other videos can be viewed by everyone.
Jack's been out for a run on a sunny day and decided to go out without any boxers on - inevitably he started feeling horny! He stopped by a wooded area (hopefully!) out of the way of any passers by, and videos what he's doing on his phone for your your entertainment. It's not long before he's fully naked except for his trainers, and he rubs himself hard while laying in the sun, big uncut cock solid in his hands - imagine stumbling across him laid across a tree trunk naked when you're walking in the countryside! He brings himself to orgasm, and shoots over himself and hints that there could be another bonus nature wank from him in future!
John is a young handsome lad, initially a little shy but when his clothes start coming off he gains his confidence! He's got a fresh faced handsome face, and lean, smooth body apart from a little facial hair. He strips off and his uncut cock looks like a nice size and he has big swinging balls with it! Then as he plays with his cock it just gets bigger and bigger - he's ends up with a big uncut monster in his hand! He plays with it for us, and also leans over and shows us his cute bum, pulling apart his cheeks so we see his hole. As he cums his body tenses and he squirts a thick creamy load onto himself!
Stewart is one of those models who not only looks good but is easy going - happy to get involved no matter what we suggest for a shoot - he's able to take a good hard fucking, so we paired him with muscly straight lad Tyler who used to be in the marines - extremely fit, amazing body, exactly the sort of guy you'd bend over for! The lads strip off and use their oral skills to make each other hard - both sucking each other's uncut cocks and kissing each other. They show off their tight little holes, while Tyler lubes up Stewarts, making it ready to take his solid cock. Tyler gives Stewart a good seeing to, and he takes it well, Tyler fucks him hard from every direction and eventually Stewart blows a nice load over his leg. Tyler pulls out and does the same.
Englishlads Top Voted Male Models